Addicted To Ibiza spends 5 minutes with the new resident DJ at Ushuaia – Paul Reynolds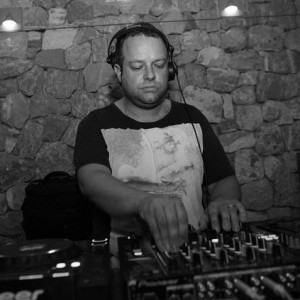 Can you tell us what you have been up to the last few years?
Hi there, yes well the past few years I have been resident in Plastik lounge in San Antonio and also last year I finally achieved my dream of playing at Space and Ushuaia with residencies for Kehakuma, Ibiza Calling and a guest spot for After Dark at We love. I then also gained a residence for the Swedish House Mafia party at the mighty Ushuaia with guest spots for Nervo and Pooldisco along the way!!
What brought you to Ibiza in the first place?
A string of events in the UK led to my wife Fay and I deciding to sell up and move to the White Isle 6 years ago to follow my love for music and all things with a great groove!!
What DJ's/venue/promoter are smashing/ pushing the boundaries at the moment?
DJs that are doing it for me at the minute are people like Craig Smith, PBR Streetgang, Ralph Lawson, Moodymanc, Craig Bratley and J.Cub and Ryan Shaw from E.A.R are getting loads of air time on my stereo at the minute. Also there is loads of amazing talent on the island with people like Sean Hughes, Mr Doris, Ben Santiago, Ian Blevins and all the Lady and the Tramps crew!!
On the promoter front there is some exciting new nights such as the very cleverly promoted Ants party at Ushuaia which will bring a very organic sound and vibe to the island and Clandestin at Space with Felix Da Housecat as resident with some great guests lined up. They will both be getting off to a great start I think!! Also on a different vibe is Mr Doris Project. After Dark is booking some more diverse DJs and bringing some very interesting sounds to the We Love dance floor which is very good for the Ibiza scene.
How do you define your sound?
I am really diverse with my music taste. I love to be playing a good straight up house set right through to disco-edits, funk and broken beats if its good I will play it!!
Where do you think the music scene is heading in Ibiza?
The Ibiza music scene is in good form at the minute. You can listen to all forms of dance music on the island from the vocal highs of Hed Kandi to the Underground sounds of Dc10. While some people disagree with the more so called cheesy nights I think its all good for the industry as everybody needs some form of entry point into the scene and if they have a genuine love for music they will soon seek out and listen to different types of music as they grow with the clubbing culture!!
Out of all your tunes, which one 'never fails?'
Its an edit of a Maxwell track I have on vinyl from years back that I play in my slower sets. It has a wicked groove to it and a beautiful vocal always does the damage in the early hours!!
Over the years what's been your personal and professional highlight!!
My personal highlight on the dance floor was a night at Manumission years ago listening to Colin Peters playing T-Connection at midday as as the sun was coming up. It has a 5 minute percussion intro then smashes into the amazing disco groove and vocal, is still make my hairs stand on end thinking about it!!
On the professional front it has to be the first time I stepped up to play on the decks at Space and Ushuaia. It just made the many years of hard work and some terrible gigs in dodgy venues all seem so worth it!!
What does Ibiza have that other similar destinations don't have to make it so special?
Ibiza has it all beautiful beaches, amazing music, great food and a very special group of people living here all with the same mindset about life and enjoying every minute of it!!
What's the strangest thing that you've seen or been involved in during your Ibiza life?
I think most of the strange things I have witnessed have been at a parties in my house in the Winter months mostly with my wife Fay instigating the antics enough said!
What advice would you give to someone visiting the island for the first time?
If your coming to work out here especially if you want to be a DJ you need to keep your head down, work hard and don't expect things just to fall in your lap you have to earn you stripes!! Be open minded with your music but still always believe in the records you play, this always comes through in a set!! Don't get too involved in the party scene, you have a job to do so stay focused on what you want from your time here!! Most of all just be yourself, be polite and enjoy every minute of your exciting adventure!!
If you could change one thing about the island, what would it be and why?
The usual one really I would make the season longer so we have more time for dancing!
Where would you recommended someone to visit – beach, hotel, bar, club, etc – in Ibiza?
The best places for me to visit would have to be Ushuaia, Space, DC10 and go for great food at restaurants like Can Pujol, La Paloma, Cana Sofia, Can Balafi and do some sunsets at Kumharas!
What is your Ibiza guilty pleasure?
Hierbas.
What do you think the future holds for Ibiza?
Ibiza has a great future with all the new things that are opening from the likes of the beautiful Ushuaia Tower, Pacha's Destino and Danny Whittle's new venture La Bomba, means Ibiza continues to strive forward into the future.
Do you miss vinyl records?
I have my collection here in Ibiza and still play and buy vinyl along with cd's! You got to love a bit of creative digging!
Do you think it is easier or harder for new DJs and producers to get involved in the electronic music scene today?
I think its easier for DJs and producers to get into the scene these days as the music is there at your fingertips through the internet. As studio equipment like Logic and Ableton etc have come down massively in price over the last few years anyone can start making beats and expressing themselves through music!!
So what will you be doing this Summer?
Ushuaia Tower and Ushuaia Club Resident DJ starting this Thursday with the opening of the Tower from then I will be one place or the other everyday either grooving it round the pool in the day or warming up one of the parties in the night!!
I am also very excited to be playing every Friday for Space with there night Clandestine every Friday from 28 June till 20 September I will be spinning some great disco edits from 12-6 on the sunset terrace!!
With one off dates at:-
Space Opening Fiesta Sunday 26 May
Secretsundaze @ Space 28th May
Ovum @ Space 11th June
Womb @ Space 18th June
Zouk @ Space 25th June
Pure Intec @ Space 2nd July
We Love @ Space 4th Aug After dark
We Love @ Space 25th Aug After dark
Anything you would like to add…..
Yes I cannot wait to see everyone on the dance floor this Summer enjoying the beats!
Follow Paul Reynolds on Facebook here.
Get Paul's brand new Ushuaia Mix here.
To book Ushuaia Club Tickets.