The History Of Ibiza's Club Scene And Its Influence On The UK Rave Scene
Ibiza is known worldwide for its club scene, people travel from all across the world to spend nights dancing in the super clubs to the best DJs on the planet. Many of the visitors to the island are from the UK as are many of the DJs and club night promoters. You would be mistaken for thinking that the Ibizan club scene mirrors that of the UK but what many people do not know is that Ibiza had a greater influence on the UK club and music scene than the other way round.
Just as the Warehouse in Chicago and the Paradise Garage in New York are recognised as changing the music of the 80's and spawning new sounds like House and Garage, Amnesia on Ibiza was the driving force behind the Balearic Beat sound and believe it or not, helped throw the UK into the Acid House craze of 1988 which became known as the second summer of love. The first summer of love was in the swinging sixties during the height of the hippy movement.
Some Chicago House was being listened to and played by some people in the UK but it wasn't until a young UK Hip Hop DJ by the name of Paul Oakenfold decided to celebrate his 24th birthday with his mates on Ibiza that the House scene exploded in the UK.
Paul had been to Ibiza before promoting the music act 'Divine' but that was with work, this time he was going for a week's holiday to have fun and meet up with a couple of friends who were working in Ibiza, Trevor Fung a London DJ and Ian St Paul. With him were fellow London DJs and club promoters Danny Rampling, Nicky Holloway and Johnny Walker.
Several of the boys had been visiting Ibiza since 1982 but it wasn't until this trip in 1987 when things really changed. Before 1987 they were drinkers, mainly having a few beers, chilling at Café Del Mar in the afternoons then clubbing at Es Paradis. On the first night of the famed 1987 trip they met up with Trevor Fung who told them about the then legendary club Amnesia and the new party drug called Ecstasy.
Amnesia was on an old farm miles away from where the boys were staying. Ibiza was expensive even back then and they had no idea how to get there, Paul Oakenfold said in an interview 'In those days, we had just about enough money for a bread roll – Ibiza's expensive, always has been. But we went. It was the first night of our holiday and we'd heard it was something special.'
The farm house was converted into the club Amnesia where musicians and Indian gurus would go and meet. The original owner in 1982 decided to leave for Thailand and handed the keys over to an Argentinian friend Alfredo Fiorito. 'He gave me the keys and said I was in charge.'
Alfredo left Argentina during the military dictatorship of the late seventies; he was a newspaper journalist writing about music and running Rock n Roll nights until the day he left. He first landed in Paris, and then eventually moved to Madrid to live. While living in Madrid he decided to take a trip to Ibiza to visit a friend, he never left.
Before he became the clubs legendary and only DJ Alfredo was selling candles and clothes around Ibiza when he was handed the keys to the club.
Amnesia would open at 3am and party right through to midday; people would head there when the other clubs shut. Originally being a farmhouse it had just a few chairs and tables, overtime it slowly grew to become a club that had housed 6-7 bars and half of those where rented out to different people.
The club was surrounded by large white washed walls and had an open air dance floor with a large mirrored pyramid in the middle; the bars were around the sides as was plenty of cushioned seating for party goers to chill out on.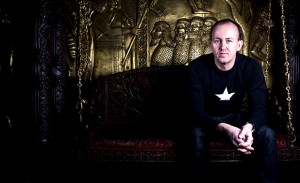 Amnesia was playing a various mixture of music from Chicago House, Pop, Rock and Electronica. Clubs in the UK were focusing on one style such as Rock and the crowds often had an attitude about them where as Amnesia would have 7000 smiling people dancing in the warm Mediterranean air under the stars surrounded by exotic plants to an eclectic mix of music styles.
The atmosphere was like no other, by 1987 people were dressing up, drinking, taking lots of drugs including liquid Ecstasy, they were wild times, there were no laws inside the clubs walls, anything was allowed. It was a place of spontaneity; people had sex anywhere and everywhere. Celebrities like George Michael would be seen mingling with the crowds.
That first night the boys tried Ecstasy for the first time, within half an hour the drug would kick in with a euphoric wave like a 'shooom' hence the name of the club night that Danny Rampling would eventually start. The boys returned back to the UK after their wild week with many powerful and happy memories.
Their experiences were so powerful they went back to Ibiza later in the season for more of the same. This time they bought a mix tape of one of Alfredo's sets, Alfredo used to sell mix tapes from his DJ booth and his record shop in Ibiza town.
Back at their villa the boys would try and figure out what was in the mix, most of the tunes were English and Pop songs by people like George Michael would be mixed with pumping House tracks like 'House Nation' which would be cut up and stretch as Alfredo played two copies simultaneously.
At that time the boys were DJing at Jazz, Hip Hop and Soul clubs and Danny Rampling was doing a radio show playing smooth Soul sounds from Atlanta. Once they returned from Ibiza Danny started playing pumping Chicago House and Balearic sounds which angered a few people but it took his listeners from a handful to a few thousand. House music was not played in London's clubs apart from a few gay clubs; it was relatively new and unheard of.
Paul was playing regular sets at Hip Hop nights in a club in Streatham, when the night finished at 2am; Paul's 'invite only' Ibiza inspired parties would then start. When the summer season ended on Ibiza the workers returned back to the UK and many of them would go to Paul's parties to recreate that Amnesia experience, Paul even flew Alfredo over a few times to DJ at the parties.
These nights were so amazing that news spread and more and more people wanted to go. The boys realized they needed to go bigger and better so they started more nights. Paul started Spectrum, Danny started Shoom and Nicky started the Trip. All three were ground breaking clubs of the time, they knew they would be successful; they felt the power of Ibiza and knew people in the UK would love it.
The first night of Shoom had around 50 people, within 12 weeks there were around 2,000 people waiting outside in the street. Paul Oakenfold was working for Rush Release records and was able to source a lot of great House records, ironically the mix of different music styles that they enjoyed in Amnesia that was known as the Balearic sound slowly turned into nights where the sounds were less varied and more a mix of electronic based European and American House, Techno and Acid.
It wasn't long before the rest of the UK started to get involved and parties were popping up everywhere, many of them being illegal raves set under bridges, in disused factories and farm buildings. Many illegal raves were found in around the London with ravers driving up and down the M25, known as the London Orbital, looking for Acid House parties and Warehouse Raves. (Ever wondered where Orbital got their name from? )
Soon home grown DJs and producers were turning out chart topping house records and clubs up and down the UK were having their own House nights. Northern cities like Sheffield and Manchester embraced the Acid House sound spawning their own super star local DJs, producers and nights. Hacienda was to Manchester what Shoom, Spectrum and The Trip were to London. The UK had gone House crazy.
The Government had talks in the Houses of Parliament about the Acid Parties craze, the police were instructed to clamp down on the illegal parties citing drugs as the issue, many really believe that the Tories didn't like the fact so many promoters and DJs were making a lot of money and not paying tax.
1988 and 1989 was an incredible time, House music and clubbing changed in the UK and a lot of that change is down to the influence one Ibiza nightclub sat in the middle of farm land had on four young English DJs who were doing nothing more than having a simple holiday.
I cannot say that House music, raves and clubbing wouldn't have happened if Paul Oakenfold, Danny Rampling, Johnny Walker and Nicky Holloway hadn't gone to Ibiza and experienced Amnesia, but I will say this, I doubt it would have happened as fast or grown to what it is today if they hadn't  we might even have not witnessed the second summer of love and no one would know what 'Aciiiiieeed, get right on one matey' actually means.
This article was written by Andi Leeman.