Saturday February 16th 2013 Cadenza Records were continuing their celebration of 10 very special years of making music and playing music, in Bucharest, Romania. I was lucky enough to be out there to witness this party play out right in front of my eyes.
From humble beginnings all those years ago, Cadenza is the brainchild of one of the icons and innovators in underground house and techno music today: Lucien Nicolet – aka Luciano. Cadenza today is a powerhouse of musical talent with a wide variety of DJ's and Producers who each bring their own unique style to the brand.
With some 7000 tickets sold, and Romania having a reputation for non-stop partying I knew from the outset this wasn't going to be any "standard" party. The last time Luciano was due to play in Romania in 2012, Mother Nature was to intervene and force him to miss out, leaving a lot of disappointed fans, nothing was stopping him this time however.
Bringing with him an All Star Cadenza supporting line up in the form of Lee Van Dowski, Andrea Oliva and Mirko Loko, it was indeed Cadenza's Anniversary and they didn't care who knew it. This line up was diverse – each DJ bringing a different "style" but at the very core all Cadenza artists, it was exciting to know each set would build perfectly in different ways to make room for Luciano to do what he does, as only he knows how.
The Mission Romania know what they are doing, and they knew that a party of this magnitude would need a lot of space, a great viewing platform and plenty of organization – Sala Polivalenta was THE perfect venue to host such an event – not your typical "club" and nor was it a Brixton Academy type feel, this was a large sports venue converted into a make shift music venue. With a large VIP area that slotted perfectly around the large DJ booth and a large floor space for the rest of the party to dance until the sun came up.
I am always dubious when I attend large-scale events, sometimes you feel like you lose the intimacy of the music and the atmosphere, but I can't say this was the case in Romania.
Everything from the word go was right – enough security and entrances to deal with the level of people expected at the event meant that there was no excessive queuing to get inside the venue, with separate entrances for those who had purchased their VIP tickets – from the moment I entered the venue I was impressed. A very helpful member of The Mission staff (Danny) made sure we knew where everything was, from the toilets to the cloakroom and the right entrances needed for all parts of the venue.
All staff were so friendly, and couldn't do enough for you – every person that was there greeted you with a smile, the bars were serviced by a drinks token option in the main part of the venue and the VIP bar being a cash bar. There were enough ticketing booths to ensure there was never more than a 3 person deep queue for tickets, and this was mirrored with the bars themselves – enough staff to ensure the service was quick and efficient – fully stocked. It was like every eventuality was pre-empted.
On a personal level, this was something unexpected for me, having been to so many different parties and events in places, normally something always lets you down – running out of drinks at the bar, or queuing for ages to get a drink or use the bathroom facilities.
I came away from this not being able to fault the organization whatsoever – this speaks volumes about The Mission & Bucharest itself, not even a problem getting a taxi at the end of the night (almost unheard of anywhere I've ever been).
Lets talk Music: Celebrating 10 years – they did just that – quite often people think they can predict the kind of music that Luciano will play – to a degree I would agree with that, but for me, that's only because I've been listening / watching Luciano from about 2006 now and I've learned a lot about why he plays the music he does.
In the last 12 months, you can see the change, the progression and how he's fused old styles with new styles – this set mirrored that. I wondered if we would be treated to a back catalogue of "Luciano" – but no – this music reflected the sound that his Romanian army of fans loved, and wanted to hear.
You could tell each DJ wanted to impress their large audience, they were up for the music, loving the atmosphere and Luciano particularly was happy to be playing to his loyal Romanian fans, knowing they missed out last time. I can only image how they felt, knowing I don't see nearly enough of him in the UK, and having to travel to various places, I can only imagine the disappointment of last time. This more than made up for it – a marathon set, as expected of him, when he's surrounded by friends and fans all wanting to carry on the party – long did it continue.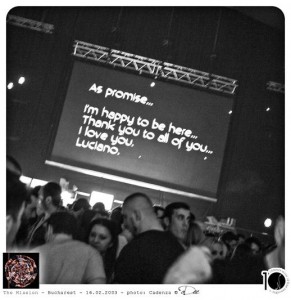 Rise Of Angel featured heavily – treated to 2 of the 3 remixers of this track on the line up – we got to hear the differences and how they fit into individual sets, and then witnessing the crowd filling the room with those infamous Luciano Love Hearts when he then played his original mix of this – it was a room full of love and admiration for a man who stands for so much.
The head of Cadenza Music, a "space for music to grow, rise and blossom", a family man, and someone who is driven by his own ambition, A devoted family man (infact motivation for the single Rise Of Angel itself) a creative talent and devout music lover himself – it's no surprise to anyone that Cadenza now stands for so much in modern music today.
There is a distinct "family" feel to Cadenza parties and this was no different, from the large space around the DJ's for their friends to party, to the staff working so hard to put this event together, and the Cadenza photographer in chief Adee Keskidi who always does such a wonderful job of capturing the essence of the atmosphere inside the venues at each party.
I would say this was the kind of night that I never wanted to end, but being in Romania, and knowing their passion for the music when one venue had to finish another one opened. With a very special "After Hours" at Studio Martin until late on Sunday afternoon, this was a perfect way to celebrate a very special 10 years for Luciano and Cadenza.
This was a perfect start to my 2013 party calendar: Romania is a whole I can't fault it – not even the weather (which was much like London at this time of year) Even London (which is such a major part in the underground music scene having some of the biggest and best parties and venues on our doorstep) could learn a LOT from our Eastern European counterparts.
With much anticipation surrounding Cadenza in 2013 with the announcement that Vagabundos will not be returning to Pacha Ibiza. Everyone is asking the same question "Where are they going?" One thing I am confident of is this – no matter "where" the Vagabundos end up – the music and talent that Cadenza represent will bring a whole host of surprises our way for the impending 2013 season, and if Saturday night was anything to go by, we are in for a real musical treat in Ibiza this year.
This was written for Addicted To Ibiza by Clair Trebes. Follow Clair here on Twitter