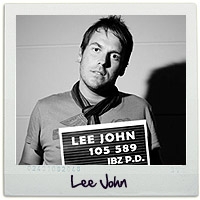 Lee John is one of Ibiza's long term resident DJ's and brings us a brand new mix all the way from down under!
Lee says "Currently on my 2nd winter (UK) summer (OZ) tour which started off from early December in Sydney then on to; Melbourne, Gold Coast, Airlie Beach then Cairns. With only 1 month left and it's back down east coast to finish off the last leg of the tour before heading back through Asia on to the UK then Ibiza for some more summer shenanigans."
Tracklisting
1. Prise & Brown – Higher 'n' Higher
2. Prok & Fitch – Symphony (Mike Vale Remix)
3. Luca Agnelli – Desire
4. Toni Varga – I'm gonna show
5. Cassius – I Love U So (Bowskis 2AM Remix)
6. My Digital Enemy & Jason Chance – Got To Be Strong
7. Jesse Garcia & Peter Gelderblom – Give Me (House Mix)
8. Jon Flores – Do Not Disturb
9. Zurita & Vazquez- La Unica
10. Matteo DiMarr feat. Roland Clark – An Angel's Prayer
11. Roger Sanchez, Prok & Fitch – Take You There
12. Tommy Trash – Truffle Pig
13. LKID – Funky Situation
14. Brown Sneakers, Dave Manna – Tonight (Tim Cullen Remix)
15. Dirty South – Rift
Don't forget to check out: www.justgiving.com/djleejohn to show your support as Lee teams up with the Bone Cancer Research Trust to take on the Virgin London Marathon 2013.
For a full interview with Lee John take a look here.