Three Hotels With Offers For Summer 2013
Here at Addicted To Ibiza we like to keep you aware of all special offers in Ibiza.
As you may know we partner with the biggest and best supplier of quality accommodation on the island Ibiza Spotlight.
Now three hotels in different locations have just given us a discount on their bookings for this coming Summer.
Lets take a look:-
Hotel Garbi and Spa
The first is the Hotel Garbi situated in Playa Den Bossa. This hotel and spa is on the super long sandy beach and only five minutes walk to Ushuaia and Space. Step outside the doors and you will find a variety of bars and restaurants to suit all tastes.
This hotel is also only ten minutes from the bright lights of Ibiza town and fifteen from the Super Clubs, Amnesia and Privilege.
For all the information about availability and booking take a look here at the Hotel Garbi And Spa.
Hostel Talamanca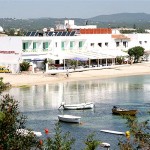 The resort of Talamanca is for those looking to chill out and relax in the day time. The hostel is situated right on the beach of the small cove of Talamanca.
From Talamanca you are literally 5 minutes from the upmarket port of Mariana Botafoch which is great for a pre-club drink or a superb meal with its wide selection of restaurants. Get your dancing shoes on and walk another five minutes and you will be at one of Ibiza's biggest institutions, Pacha!
Click here to find out lots more info on the "chilaxing" Talamanca Hostel.
El Puerto Hotel And Apartments
For those of you that want to be in the heart of the action then the El Puerto is for you.
Situated in the centre of Ibiza town these hotel rooms and apartments come with a nice size swimming pool and gym. You can either have a street or pool view so there is always something to see going on.
As you are in Ibiza town you have everything right outside your door. Pacha is within walking distance and you can get a water taxi to the beach at Talamanca for daytime sunning yourself!
For more information about El Puerto Hotel And Apartments check it out here.
Special Offer
Now when booking any of these great Ibiza hotels you must use the Addicted To Ibiza discount code.
The code is SPECIAL5 and will get you off 5% off the total amount on your accommodation.
This offer is valid till the 31st March 2013
If you have any questions regarding this please contact us here.